The Eternal Library
From DNA | Lifestyle |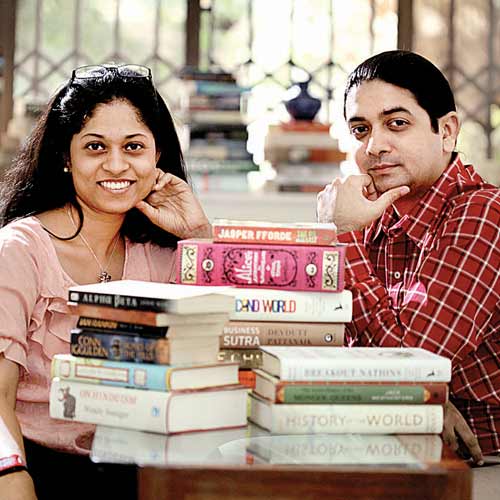 Ahalya Naidu & Meethil Momaya
So you have exhausted your set of books and are itching to get your hands on not one, not two but a library full of books? Meet the creators of The Eternal Library, Ahalya Naidu and Meethil Momaya.
Ahalya's love for books and her experience in the publishing industry kept her close to her first love books.
She says, "We wanted to set up a library of our own but funds were a major issue, which is when we got the idea of going to others and helping people set up their collections."
The Eternal Library helps you set up and run a library for yourself, your employees, your guests, wherever you would like to promote reading. They offer a set of services that give birth to libraries, help new-born libraries grow and add to the wisdom of flourishing libraries.
"We can set up a library of any size and it can be updated at the frequency you choose. We just need to know what you like reading," says wild life photographer and cofounder Meethil.  What's also nice is that they send you a list of recommended books depending on your taste and once you approve, they will do the rest. So, what are you waiting for. It is time you went  ahead and read a book from The Eternal Library for a lark. Read anywhere under the sun and get The Eternal Library to curate your collection.
Get in touch with Ahalya Naidu and Meethil Momaya of the The Eternal Library.

Visit their website by logging on to
 www.theeternallibrary.com or you can call on 
+ 91 9004444598

TAGS: LIBRARY, ETERNAL, SET, BOOKS, MEETHIL